It's not just the rich and famous who can have personally prepared meals anymore!
Personal Chef Mark Tafoya has been featured in the New York Times, USA Today, The Wall Street Journal, Fast Company, TheStreet.com, Time Out New York and Bon Appetit, on the FOX Business Channel, and his food writing appears in the new anthology Food and Philosophy published by Blackwell Press. He is also co-owner and Executive Producer of the Culinary Media Network, an online portal celebrating the sensual pleasures of food, and home of the world's first all-food podcast network. His new cookbok, The Gilded Fork: Entertaining at Home, A Year of Dinner Parties, features 13 full dinner party menus, complete with Chef's Notes and wine pairings, and makes the perfect gift for the foodie in your life.
Introductory Special:
This Summer, I'm offering a special price on dinners for 2, 4, or 6 people in Manhattan, which is the perfect gift for a food lover, recent parent, or your sweetie, or just an excuse to have a great gourmet dinner at home that you don't have to cook! I present the recipient with a gift certificate for the service, which they can redeem when it's convenient!
$425 for an all inclusive 4 course dinner for two
$525 for an all inclusive 4 course dinner for four
$650 for an all inclusive 4 course dinner for six
photos by Alan Barnett, Jaden Hair, Jeff Goulding (Times-Herald Record), Mark Tafoya
By having set menus with 2 choices for each course, I'm able to offer it at a lower price than the normal menus which are completely customized, as a means of introducing the service to new customers. Price includes shopping, setup, cooking, serving and cleanup! (Menu Substitutions possible for an additional fee)
Click here for the CURRENT MENU
Please ask me about the special Manhattan Introductory pricing when you call.
A Message from Chef Mark
As a Personal Chef, I come to your home at your convenience, and do all the work, saving you time and money, and assuring that you get exactly the meals you want, when you want them.
Whether it's regular weeknight meals for the family, stocking the freezer with meals for a new mother, a special Romantic Dinner for Two, or an in-home cooking lesson for you and your friends, I am here to provide you with fresh, custom made meals, and an entertaining time.
On these pages you'll find information about my service and menus, and photos of some of my dishes. Please call me at (917) 405-0088 and we'll discuss your specific needs.
e-mail me at remarklablepalate@gmail.com
You can also give a GIFT CERTIFICATE for a Personal Chef Service or a Custom Cooking Class! Hiring a Personal Chef is a GREAT customer appreciation gift for business large and small.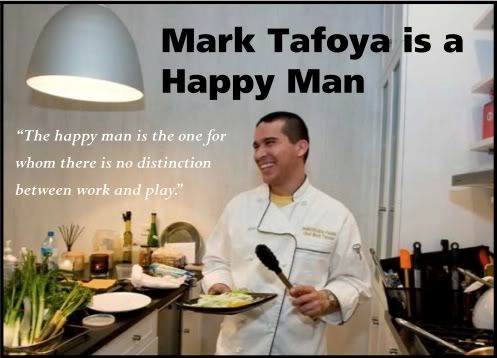 Photos by Kelly Shimoda/Veras
Email