July 1st, 2008 at 10:35pm
[display_podcast]

ReMARKable Palate #150: Fancy Food Show Hot Picks
Today, it's my annual wrap up of highlights from the Fancy Food Show. Each summer the NASFT, the National Association for the Specialty Food Trade, hosts a huge show at the Jacob Javits Center, showcasing food producers from around the world. Many countries sponsor national trade pavilions to show off their traditional and innovative products, and also many entrepreneurial Americans take the opportunity to introduce new specialty products for the American Market. Today it's a quick wrap up of a few of the products that caught my eye.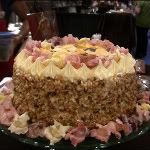 ReMARKable Palate is a production of The Culinary Media Network. www.culinarymedianetwork.com
Theme Song: "Go Fish", by Big Money Grip, from the Podsafe Music Network.